When the time is right, act.
When it makes sense, lock.
Dollar One Mortgage, Serving Maryland for over 35 years!
Today's Special: up to $600 toward your appraisal (if necessary.)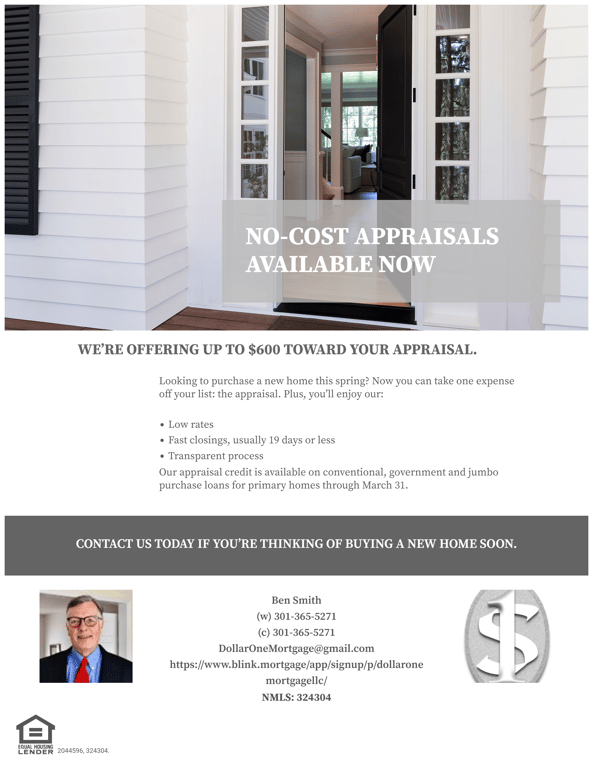 Borrowing:
There's a reason everything comes down to cost, it's smart to spend less.
A lower rate today can have a huge impact over 30 years.
We have lower rates because we spend less, and because we spend less we can charge less. We use every tool available to automate and simplify as much as possible.
At Dollar One, we provide the highest quality experience possible, one loan at a time.
Purchase or refi, high LTV or low, high FICO or low: we have all kinds of residential and commercial loan programs. Fixed rates, exact rates, ARMs, interest only, alt doc, low doc, jumbo, conventional. And we use electronic docs as much as possible to take the work out of paperwork. Call me anytime at 301-Dollar-1, that's 301-365-5271.
Subscribe to The Daily Rate
Dollar One Mortgage, LLC
NMLS 2044596
Lending in Maryland Only
Contact Us
Call Anytime: 301-365-5271 Email: Info@DollarOne.com